200hr Vinyasa Yoga Teacher Training!
Spring 2017 in Ottawa
For practitioners interested in teaching yoga or deepening their own practice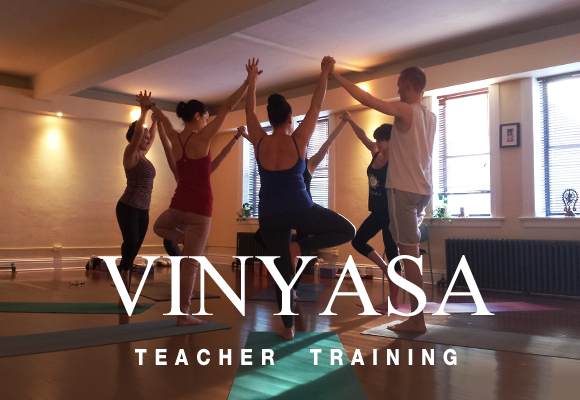 The AYO Teacher Training is designed to take you deep into the heart of yoga as a holistic system that encompasses mind, body and spirit, based on the eight limbs of Astanga Vinyasa Yoga.
Our aim is to help you to take your own practice to a much deeper level, so you can confidently transmit your own understanding of yoga to others.
This program is unique because it includes a serious exploration of your own practice through our Mysore program, a self-guided yoga practice in a group setting. Through the ritual of repetition and familiarity, the practice takes us deep into the core of the body and simultaneously promotes the possibility of insight into our own mental processes.
Your growth will also be supported by studies of yoga philosophy, meditation, the anatomy of the body and of yoga postures, the energetics of yoga, safe hands-on adjustments, ethics, pranayama and lifestyle.
Program Overview:
Philosophy – As an inspiration for your approach to life. Experience yoga as a holistic system through the study of the most influential source texts: Patanjali's Yoga Sutra, Bhagavad Gita, and Hatha Yoga Pradipika.
Breathing and bandha – Understanding the foundations of the rhythms that create the pranic and apanic flows of energy through the body.
Asana Workshops – Modern perspectives and alignment in motion.
Self-Guided Practice in a Group – Vinyasa yoga at your own pace with AYO's Mysore program.
Drishti – How inner and outer gazing points can help lead to a deeply contemplative state.
Anatomy of Yoga – Functional anatomy of yoga and the physiology of meditative states.
Meditation – Various approaches will be explored drawing from Patanjali's Yoga and Buddhism.
Pranayama – Breathing practices that can focus the mind, and calm or stimulate the nervous system to experience deep states of physical and mental tranquility.
Sanskrit – Direct study of this ancient language through correct pronunciation, discovering how it can enrich your yoga practice and teaching.
Teaching skills – Adjustment techniques, holding space, language skills, sequencing for specific purposes, wrapping content around a theme, and modifying yoga to suit individual needs.
Teacher Training Dates:
3-Day Intensives:
Fri, Sat & Sun, 9-5pm each day
May 5, 6, 7
June 16, 17, 18
July 7, 8, 9
Plus 6 weekends:
Fri 6-8pm, Sat 9-6pm
Sun 9-12pm
May 12, 13, 14
May 26, 27, 28
June 2, 3, 4
June 9, 10, 11
June 23, 24, 25
July 14, 15, 16
Investment
*$2,600+tax Earlybird – Deposit by March 30, paid in full by April 30.
*$3,000+tax Deposit after March 30, paid in full by April 30.
*Price includes attendance to Mysore classes during the training.
How to pay
Option 1 – Earlybird – $450 off total cost!
Pay non-refundable $500 deposit by March 30.
Pay remaining $2,438 by April 30 (taxes included).
Option 2:
Pay non-refundable $500 deposit after March 30.
Pay remaining $2,890 by April 30 (taxes included).
How to apply
Contact us and tell us a little about yourself, why you practice yoga, and what you hope to gain from this course.
AYO's Teacher Training is registered with the Yoga Alliance (RYS)
Upon graduation, students who fulfill all the course requirements will receive a 200-hour certificate of yoga teacher training which is recognized by the Yoga Alliance of North America.